Podcast: Download (Duration: 30:33 — 30.8MB)
Show Notes: Episode 107
Today on the First 40 Miles, we have a cookbook!  And we'll share some behind the scenes details along with some tips to help you create your own recipes!  Then on the SUMMIT Gear Review, a flameless cooker that will keep your meals hot and toasty to the last bite. Next, our Backpack Hack of the Week is the recipe we've hyped for months…and we promise it's worth it!
Opening
Our new backpacking cookbook published today!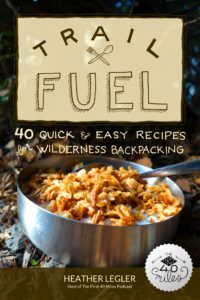 Trail Fuel: 40 Quick & Easy Recipes for Wilderness Backpacking
What went into creating this backpacking cookbook?
Commonly found ingredients…no matter where you live, these are easy to find ingredients.
Simplified recipes
Divided up by what you do at home and how to prep on the trail
Pictures! We have an image for each recipe!
The hardest part was the process of creating a cookbook that was nearly completely devoid of vegetables. We love eating healthy—so I think we're still recovering from all the recipe testing.
Top 5 Elements of a Great Backpacking Recipe
It's shelf stable
Dried fruits, nuts, chocolate
Fast food packets (mustard, mayo, ketchup, etc.)
Oats, ramen, prepackaged mixes
It's simple
The fewer the ingredients, the more likely you are to actually make it for your next trip
While experimenting, I tried to pare each recipe down to its basic parts. Which means that later on, you can get as creative as you want.  But for now, the recipe should be super basic and super simple.
Minimal prep + minimal clean up
It's flexible and adaptable
If the recipe calls for 4 ounces of water, and you accidentally add 6…it shouldn't ruin the meal.
Too watery, to thick. Not a big deal.
It's calorie dense
Calories per ounce
Nuts, but butters, dried or dehydrated fruits, grains,
Leave home things that have a lot of water
Look for food that is calorie dense and has the water removed
It's been tested!
It's important that you test your recipes before you go out…
Maybe even include a 3×5 card in the plastic ziptop bag with your food so you remember what it is, how much water to add, and what the steps are
Structure
The Hydroheat is a way to heat up food on the trail without using fire.
The Hydroheat has three parts: the insulated plastic container that has a locking lid, a 3 cup stainless steel pan that fits inside and a disposable heat packet that you purchase separately.
Disposable packet made of quicklime
Utility
To use the Hydroheat, unwrap the heat packet, set it in the bottom of the plastic container add 1/2 cup of water, then place your pan on top with the food you want to heat up, and snap the lid shut.
Water activates the heat pack, heating your food or drinks between 150 and 175 degrees in as little as 5 to 15 minutes.
Doesn't boil water
Keeps food warm for about an hour (depending on the outside temp)
Mass
Heat packets weigh 2.2 ounces each
The cooker weighs 15.5 ounces (441 grams)
Maintenance
The packets are biodegradable
The only thing that needs to be cleaned after using is the stainless steel pan that sits inside the plastic housing
Investment
$25 for 10 pack of heat packets…although there's a good chance you can find it for less
$40 for the Hydroheat Flameless Cooker
Trial
Heat packets are a little pricey and heavy
Works best with oats for oatmeal, ramen and warming up freeze-dried meals
Watch out for the steam—this does get very hot, so beware. And do no touch the packet until it has cooled down.
Packets are biodegradable/compostable. Just scatter contents.
If you're trying to encourage your child to be more self-reliant on the trail, but don't want them using a JetBoil or Pocket Rocket, this is a great option. Or if you're an adult who should not have access to fire or pressurized fuel canisters, this is a great option for you as well.
Backpack Hack of the Week™: High Fat Granola Recipe!
2 cups oats (quick or old fashioned)
2 cups sweetened flake coconut (not compressed)
1 cup chopped walnuts
½ cup canola oil or coconut oil
½ cup honey or pancake syrup
1/4 tsp salt
At home:  Mix oats, coconut, walnuts, oil and honey (or pancake syrup) together.  Spread evenly on a parchment lined cookie sheet.  Bake for 30-40 minutes at 350 degrees F, stirring every 10.  Remove from oven and let cool.  Package in a quart freezer zip top bag and use within 2 weeks.
Measure NIDO Instant Whole Milk Powder into a zip top bag.  The ratio for NIDO is 1 cup of NIDO to 4 cups water.
On the trail:  Pour granola into your Sierra cup or mug.  Add 2-4 Tbs milk powder then add enough water to your liking.
NOTE:  If you like granola with milk, you're welcome to add the NIDO instant whole milk powder to the granola before you hit the trail–then all you have to do is add water on the trail, and you're good to go.
Great served hot or cold!
This is one of the recipes in our new cookbook: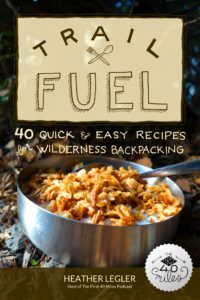 Trail Fuel: 40 Quick & Easy Recipes for Wilderness Backpacking
Trail Wisdom
"Be bold about your actions. All life is an experiment."
-Ralph Waldo Emerson