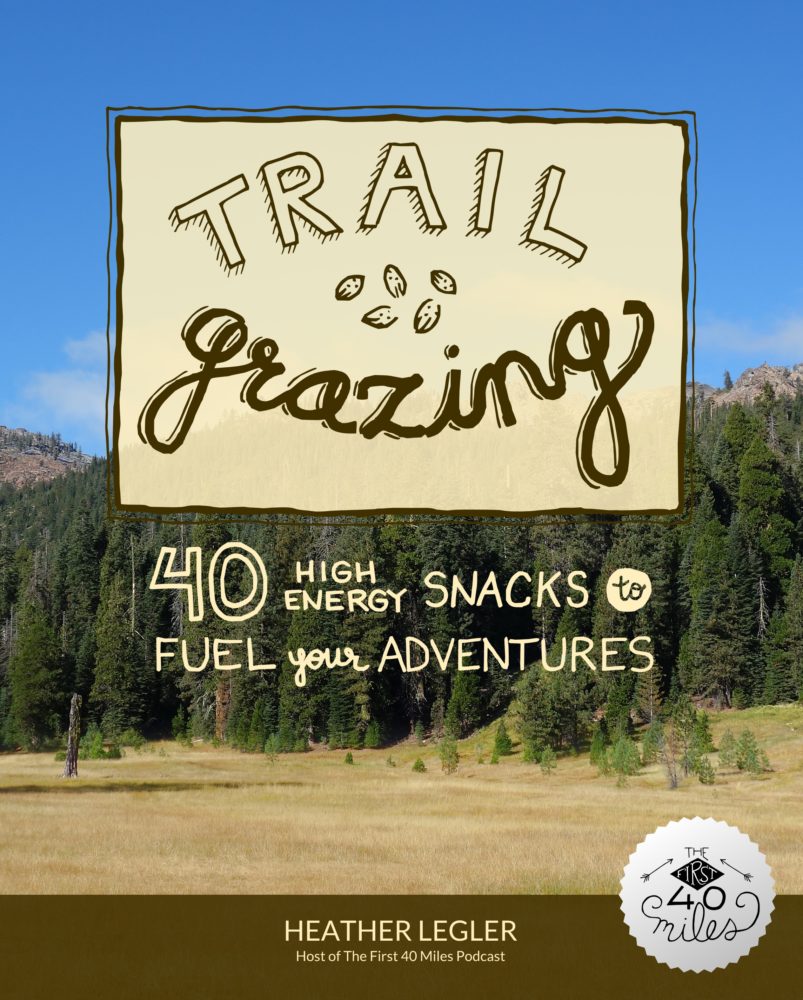 Paperback
eBook
Before I went on my first backpacking trip on the Timberline Trail in 2014, I understood lunch on the trail to be a casual picnic kind of affair in which we all lounged languidly and ate grapes like Romans. But I quickly realized that on the trail, there's too much to see and too many miles to cover to stop and whip out a blanket, a basket, and a bottle (let alone a toga) every time hunger strikes. Yes, trail grazing is a movable feast, and that feast has gotta be fast, portable, and calorie-dense.
After figuring out that lunchtime on the trail included very little lounging, I started looking closer at what I was eating. Much of my grazing included highly processed foods that wouldn't be a part of my normal diet at home. "But," I rationalized, "It's my reward for hiking hard. Plus, it's not that bad…" But then why did I still feel weird about calling a Snickers bar and a bag of Cheetos "lunch?" I finally listened to my shoulder angel and began experimenting with recipes that provided both caloric density and nutritional density. This is exactly what you'll find in Trail Grazing.
When it comes to what to eat while trail grazing, the hungry hiker can either continue to cram the same dry granola bar, mile after mile, hike after hike; or, with a vision that challenges convention, the emboldened hiker can seize new culinary opportunities, and while holding a crumbling commercial granola bar tightly in her trembling fist, boldly declare, "No more!"
But don't blame the commercial granola bar. The truth is that most of us want to get out on the trail with as little fuss as possible. Which is why, I think, so many of us are half-satisfied to grab whatever Ye Old Grocery Mart has on the snack aisle. We know that making something might take a little longer, require a few extra ingredients, and take a bit of kitchen know-how… and maybe that's just a little scary.
However, if you're willing to trust me (and our 50 recipe testers!), I can help you discover a variety of new, quick, easy, and fun foods to take with you on the trail! You can create trail-worthy snacks that are less expensive than store bought bars and snacks, more flavorful (because you have control over what goes in), and nutritionally superior to anything processed in a factory. Many of the recipes in Trail Grazing come together in a matter of minutes, with just a handful taking some extra time to dehydrate or bake. Many of the recipes are small-batch, which means you can try something new, and it'll be gone before you tire of it. All of the recipes include nutritional powerhouses: whole grains, fruits, vegetables, seeds, nuts, and herbs. And all of the recipes have been trail-tested!
Paperback
eBook
Also, check out our book of 40 quick and easy backpacking meals, Trail Fuel.
The First 40 Miles is a participant in the Amazon Services LLC Associates Program, an affiliate advertising program designed to provide a means for sites to earn advertising fees by advertising and linking to amazon.com. Your purchase supports The First 40 Miles Podcast and keeps it sponsor-free.