The 40 Backpacking Hacks series is a witty collection of tips, taken from The First 40 Miles Podcast, to help beginning backpackers thrive in their new-found hobby. Each hack is adorably illustrated.
Food hacks include recipes that are calorie-dense and easy to prepare on the trail or in camp.
Gear hacks save time and money and enhance your backpacking experience.
So, whether you're still mustering up the courage to take your new hiking shoes out of the box or you've been on more trails than you can shake a trekking pole at, this book will inspire you to rethink the essentials, lighten your load, and make the most of your time on the trail.
Volume 2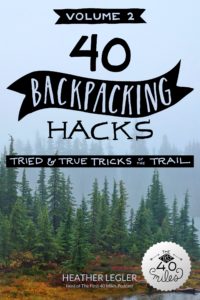 I love a good life hack.
If there's a clever, new way to use household items or a fun idea for how to make something easier, cheaper, or more efficient, I'm all for it.
And that goes for trail time, too! Backpacking hacks can make your trip more creative, comfortable, entertaining and fun. In fact, backpacking is the perfect opportunity to exercise that creativity muscle.
You can use the backpacking hacks in this book to get you started—but before long, I promise, you'll be coming up with your own backpacking hacks. You'll discover new ways to fix problems, create customized gear, and turn your one-trick ponies into multi-use items.
eBook
Paperback
Volume 1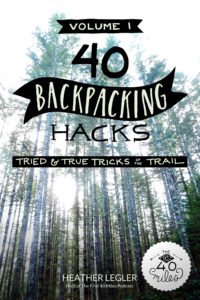 What do a blank canvas, a silent piano, and a trailhead all have in common?
They are each anxiously waiting for a curious, brave soul—regardless of talent, skill or experience—to breathe life into them.
A canvas comes to life through the wild, youthful, vibrant strokes of a paint-laden brush.
A piano comes to life through an uninhibited hand gliding smoothly over the glossy, heavy, rebounding keys.
And a trail comes to life when a naïve adventurer, burdened and blessed with the exact necessities of life—nothing more or less—has a desire to breathe more than her lungs can take in, be immersed in a culture of complete magnificence, and live for days feeling equal parts fear, love, fatigue, and vitality.
eBook
Paperback
The First 40 Miles is a participant in the Amazon Services LLC Associates Program, an affiliate advertising program designed to provide a means for sites to earn advertising fees by advertising and linking to amazon.com. Your purchase supports The First 40 Miles Podcast and keeps it sponsor-free.